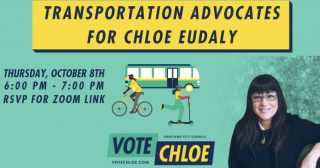 Portland Commissioner Chloe Eudaly is in trouble.
As Willamette Week reported today, she's well behind challenger Mingus Mapps in both polling and fundraising and there's a very real possibility she won't earn a second term on council.
This reality has set off alarm bells within Portland's transportation reform circles. As the commissioner-in-charge of the transportation bureau, Eudaly has led several very popular initiatives. Most notably her office created the Rose Lane Project which has the stated goal of reducing commute times for people of color. Eudaly's vision of streets as places for much more than just car and truck users is also evident in the Safe Streets Initiative, a major undertaking to make public right-of-way more accessible and safer for vulnerable road users and small business customers.
Portland has a strong transportation activism legacy; but the issue's political heft has waned significantly in recent years. As other issues like housing
…
Read More